Spectre Overview
Spectre is the first Indian modular Drone which is convenient to assemble, control &  replace in case of need. It provides the user with an endurance of about 50 minute flight time under normal operations.
Apart from being strong and light, Spectre is also a highly portable, modular flying machine with great endurance and heavy lifting capacity, at a consumer price.
It is having maximum 5 kg of payload which is perfect for all your missions.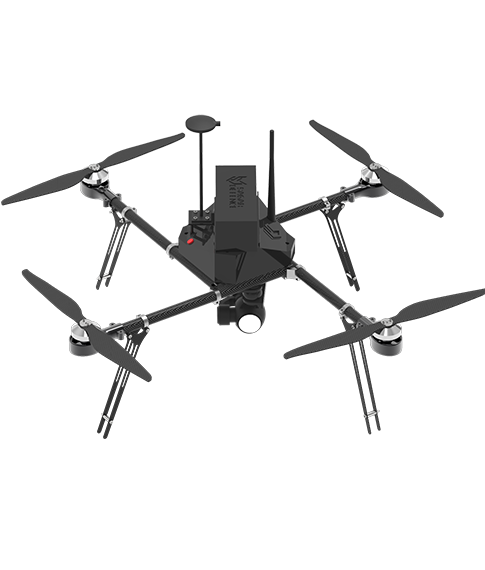 Spectre highlights
Endurance of 50 minutes flight time on a single charge
Fully Autonomous Mission execution.
Robust and easy to repair. In case of a crash  you can replace parts in matters of minutes
Available in Lightweight carbon fiber frame/ Aluminium/FRP with a modular design easily reducing the time for storage and travel
Modes including auto, manual, follow me and many more

Security & Surveillance
Keep watch over everything from high in the sky! In protecting the public from threats such as terrorist attacks, monitoring crowded places. For this, an appropriate air support becomes a decisive advantage.

Inspection & Land Mapping
To ensure the supply of electricity, gas and oil, regular inspections of the installations are imperative.

Search & Rescue
In search and rescue operations every second counts. It is important to be able to obtain a rapid overview of the situation which is only possible from the sky!

Oil & Gas
Oil lines needs constant monitoring in order to insure that there is no oil or poisonous gas leaks along the pipelines. Drones can help in finding the cracks and leakages in pipelines.

Insurance
To ensure the proper damaged analysis after some misshaping, these drones will be a good help.

Agriculture
Drones has a unique advantage in providing live data from a range of sensors for in-depth analysis of crop and livestock health.
National Disaster or National Security issue? Call us at +91 9819263177