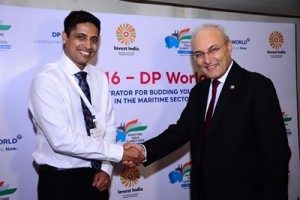 Ministry of Shipping today announced Sagar Defence Engineering Pvt. Ltd. as the winner of the maiden 'MIS 2016 – DP World Prize' contest which was organized in association with Invest India and Global trade enabler DP World. The winner will be awarded a prize money of INR 15,00,000 by DP World to support their project at the Maritime India Summit 2016.
'MIS 2016 – DP World Prize' contest received an overwhelming response from participants across the country of which final five entries were shortlisted. These five shortlisted start-ups were invited to make a presentation to an eminent panel of judges chaired by Mr. Deepak Parekh.
Sagar Defence Engineering Pvt. Ltd., was founded by Capt. Nikunj Parashar and his team in May 2015. They have launched the first unmanned marine surface vehicle for Indian Navy. Their product has been successfully inducted in the Indian armed forces. This developed technology has the potential for extreme applications to study radiation levels in Nuclear power plants and in thermal power to test out submerged structures to list a few.
Mr. Barun Mitra, Joint Secretary, Ministry of Shipping, Government of India said, "We believe that there is immense potential in the Maritime Sector. Innovative initiatives like the 'MIS 2016 – DP World Prize' contest will assist in realising our vision to create unique platforms for investors to explore potential business opportunities in this sector."
Mr. Deepak Parekh, Chairman, HDFC said, "The 'MIS 2016 – DP World Prize' contest is an aggregator platform to motivate young entrepreneurial talent present in our country. All the five shortlisted participants showcased excellent entrepreneurial skills through the fresh innovative concepts and ideas submitted by them. It was indeed a challenge for us to select Sagar Defence Engineering Pvt. Ltd. as the winner for this maiden contest."
Commenting on the start-up accelerator programme, Mr. Deepak Bagla, Invest India, said "India offers a unique advantage in the Maritime Sector, given our long coastline. There are tremendous opportunities for start-ups and large corporations alike. This unique contest allowed budding entrepreneurs to showcase their ideas and aimed to provide them with immediate funding support."
Mr. Anil Singh, Managing Director & Senior Vice President, DP World Subcontinent, said, "As an organization DP World is committed to the growth and development of the maritime industry in India. The 'MIS 2016 – DP World Prize' contest aims to reward entrepreneurs who have game- changing ideas that could provide an impetus to the industry. We congratulate Sagar Defence Engineering Pvt. Ltd. on developing a path-breaking concept and hope the prize will help them to make their idea a success."
Capt. Nikunj Parashar, Co-Founder, Sagar Defence Technology said, "We are  extremely delighted and proud to win the maiden 'MIS 2016 – DP World Prize' contest. This platform has now further strengthened our belief that in time to come Unmanned marine vehicle will not only save time, money and increase productivity, but also save human lives out at sea and on battlefronts! We will be utilizing this prize money to build our first Unmanned Surface Vehicle for Oil & Gas sector which is scheduled to be launched in October."